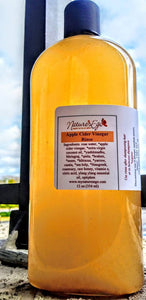 Apple Cider Vinegar Hair Rinse (Ayurvedic Blend) 
An ayurvedic hair rinse with a blend of rose water and apple cider vinegar. Non oily, all hair types. A blend of vitamin e, herbs, and flowers to promote healthy scalp and hair. May use hair rinse before or after conditioning or as hair refresher when needed. Style as usual. Arrives with spray attachment. Ph Balanced
8 oz 
ingredients list: apple cider vinegar, roses, honey, yarrow, amla, brahmi, hibiscus, neem, bhringraj, yashtimadhu, cassia, kelp, fenugreek, rosemary, vitamin e, and ylang ylang essential oil. Traditional organic coconut oil is also added to this ayurvedic blend. A preservative is added.
Essential oils may be added to this hair rinse by selecting from the drop down menu if one chooses. Ylang ylang essential oil is used in this ayurvedic blend. Ylang ylang is usually found in the rainforest and is known as one of the best essential oils. 
Available Essential oils: Cinnamon Bark - (scalp stimulant/hair growth/antiseptic/antibacterial) Lavender – (cleansing/antiseptic/antibacterial/rid lice/calming) Tea Tree – (cleansing/dandruff/rid lice/antiseptic/antibacterial) Peppermint – (scalp stimulant/cleansing/antiseptic/antibacterial/hair growth) ******8 oz size
Customer Reviews
03/18/2023
Laura F.

United States
Love this rinse!
I sprayed it after I washed & conditioned, I did not rinse it out but my scalp felt so so good afterwards and made de-tangling a breeze! After using Nature's Ego products for a couple of years now, the health of my hair has changed tremendously and the quality remains unmatched. I cannot say it enough, if you have always used store bought hair products and make the move to switch to more natural hand made hair products, you will not go back! And once you have used the natural products consistently, you will most definitely notice the difference! Shampoos, conditioners, serums, creams & cassia treatment, you can't go wrong with ANY of these products. The entire line is HIGHLY RECOMMENDED!