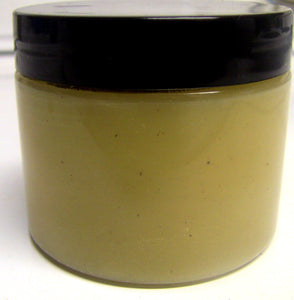 Ayurvedic pomade. Excellent as a skin protectant. Helps calm the skin. Organic Virgin Coconut Oil and Extra Virgin Olive Oil is added to provide shine and nourishment to the hair. This is not a heavy, waxy, heavy feeling pomade. Melts and massages easily into the hands without waxy or dragging feeling. Pomade melts readily into the hands and can be used on the hair & body. Skin feels silky soft after applying. Free of preservatives, parabens, petroleum, & artificial color. Choose from a list of fragrances or essential oils if you prefer a scented product.

Ingredients: extra virgin olive oil, beeswax, extra virgin coconut oil, hibiscus, chamomile, neem, brahmi, amla, rose petal powder, horsetail root
Tips: Apply to damp or wet hair to seal in moisture and add shine to hair. Can be used as a prepoo or to deep condition hair. To deep condition, apply to wet hair and cover with plastic cap or use indirect heat. Apply to skin for healthy nourished skin.
***DO NOT use if have bee allergies Products have not been evaluated by the food and drug administration. Please seek advice of a medical practitioner when using products containing herbs and essential oils.
8 oz