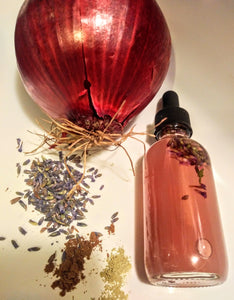 Organic Red Onion Drops is formulated with stimulating vegetables, flowers, oils and herbs. Gives a tingling sensation to the scalp due to the onion content.
Formulated with organic red onion, organic saw palmetto, aloe, bhringraj, organic amla, organic fenugreek, gingko biloba, organic emu oil, organic sea kelp, lavender, and ashwaghanda. Lavender essential oil is added.
*this product is made with natural and organic ingredients only.