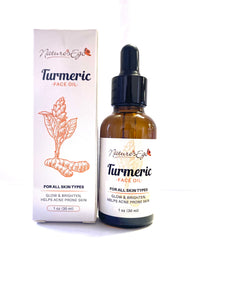 Turmeric Face Oil is formulated with all natural ingredients. Apply as a facial moisturizer to hydrate skin. Non staining.
Ingredients:
Jojoba Oil, 
Squalene Oil, 
Watermelon Seed Oil, 
Turmeric Extract, 
Calendula Extract, 
Hyaluronic Acid, 
Vitamin E, 
Licorice Root Extract, 
Papain (papaya enzyme), 
Propolis Extract, 
Tea Tree Essential Oil
****Please DO NOT use if have bee allergies or allergies to any of the listed ingredients.
www.mynaturesego.com
Customer Reviews
04/10/2022
Ronita

United States
Oil of beauty
I put this on every night…after a week there was a difference in my glow. I'm going to check out Michelle's Guwahati stone too…thanks for the tip!
12/17/2021
Michelle S.

United States
Buy this face oil
I love this oil - it's light and feels hydrating after I cleanse my face. I use a guasha stone to massage it into my face (especially around my jaws) for amazing results. I get dark spots around my scalp and I'm noticing immediate lightening of those areas after a week and a half of use