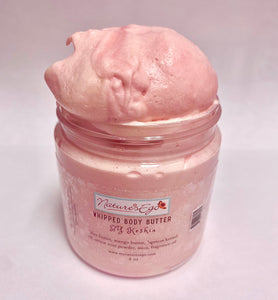 Whipped Body Butter scented with warm, sugary, cotton candy notes.
INGREDIENTS
organic shea butter, mango butter, organic apricot kernel oil, arrow root powder, mica, fragrance oil
USAGE
Use as a daily moisturizer at anytime. Rub the body butter completely into the skin. May apply after a bath or shower to seal in moisture for soft, smooth, glowing skin. May also melt on hands and body and use as a massage oil. Our butters are rich and emollient and are not formulated using water. A small amount goes a long way. Excellent for all skin types. 
For example: A small pea size amount is enough to rub in the hands to cover both hands, front and back. Adjust as needed in other areas.
*please do not use if allergic to any of the listed ingredients
4 oz